Cutting-edge research, creative applications, and state-of-the-art production come together March 31 & April 1 at NoCo Hemp Expo 2017 – the largest industrial hemp-centric event in the country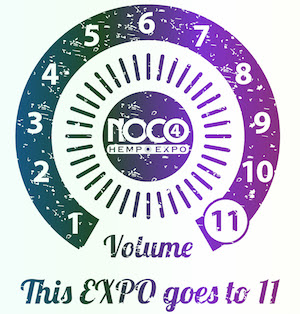 Loveland, CO (March 28, 2017)
–
This Friday
and
Saturday, March 31 and April 1
,
NoCo Hemp 
Expo
 2017, the largest hemp-centric event in the U.S., brings together speakers, exhibitors, and an audience from around the globe to learn about the latest research, production advances and applications in the industrial hemp industry. The event, with a B2B industry focus on Friday, March 31, and a consumer focus on
Saturday, April 1
, is at The Ranch Events Complex, off I-25 in Loveland, CO.
"There's no place on the planet for those interested in the hemp industry where they can go to learn more and to get connected," said NoCo Hemp Expo Founder Morris Beegle. "From policy makers and legislators, to big cultivators and processors, to the most creative product manufacturers, to the leaders in research, you'll find them under one roof in Loveland this week."
Just last week, Beegle noted, sponsor and presenter Botanical Genetics, announced new industrial hemp plants with zero tetrahydrocannabinol (THC), the principal psychoactive constituent in cannabis. "Heavy-handed federal regulations have focused undue attention – some say paranoia – on trace amounts of THC in hemp," said Beegle. "This important breakthrough is the latest step in taking away this misguided concern and relieving the handicap that has prevented the U.S. hemp industry from reaching its full potential as an economic engine, job creator, and global leader."
Choose from a variety of demonstrations, presentations and panels, including keynotes by John Roulac, founder and CEO of hemp superfood producer Nutiva; Shaun Crew, founder and president of Hemp Oil Canada; hemp farmer, author, and evangelist Doug Fine; Jason Freeman, organic and fair supply chain specialist; Bob Hoban, managing partner of the Hoban Law Group; and former CIA Director James Woolsey, keynote speaker of the sold out Hemp Summit taking place on Friday.
Products and services on display made from or incorporating hemp include clothing and apparel; foods; body care; botanical extracts; nutraceuticals; bio-plastics; building materials; paper, and more.
Hemp machinery, processing, and service providers attending include those involved with decortication; extraction; planting and harvesting; seed dehulling and oil pressing; irrigation; soil nutrient management; lab testing; genetics; seeds; legal services; distribution; greenhouses; farm consulting; and nano technologies.
NoCo Hemp Expo 4 is presented by CBDRx; CBDRx is launching its new consumer brand, Functional Remedies. The Let's Talk Hemp Stage is presented by The Hemp Road Trip.Friday's Hemp Summit Room is presented by Cannopy Corporation. Saturday's Hemp Summit Room is presented by Industrial Hemp Research Foundation, this year's non-profit beneficiary. And The Pathway to Freedom Party is presented by Botanical Genetics.
For tickets to the Expo and access to the full range of programming during Friday's Industry Day and Saturday's public events, visit http://nocohempexpo.com/ticket-sales/.
About NoCo Hemp Expo 4, Colorado Hemp Company and TreeFreeHemp
WAFBA LLC (We Are For Better Alternatives) is home to the NoCo Hemp Expo,TreeFreeHemp and Colorado Hemp Company, located in Loveland, CO, and operating since 2012. Areas of focus include product and brand development, marketing, printing, production, events and advocacy. Learn more at NocoHempExpo.com, and find us on Facebook andTwitter.
FOR IMMEDIATE RELEASE
Contact
Morris Beegle, Colorado Hemp Company, tel 970.581.5049
# # #